Hello,
I hope you are all having a great weekend. The weather here is beautiful today. I hope to get a chance to spend some time outdoors and maybe do a little knitting in the sun. As I mentioned yesterday, I've started May's socks, that's them above. I'm using some Knit Picks Stroll Hand-Painted in Tiger that I purchased quite a while ago. Its a quirky colour that reminds me of Tigger from Winnie the Pooh. The pattern is
Layburn
and it's a fun one. I'm sure that the "quilted" detail would show up much better with a solid or kettle-dyed yarn, but I still like how these are turning out. I haven't memorized the patterning yet, so I've been working on them when I have more focused time. They're coming along pretty good though.
I finished what I'm calling "the Narnia socks" that I knitted up with the Lorna's Laces Jessica sent me in the RAK that I shared a few posts back. I'm so happy with them! The yarn was a treat to knit with and the colours are gorgeous. Thank you again Jessica!!
Now that I finished these I cast on for another pair of socks. I like to always have one plain vanilla sock on the go at all times so that I can knit on it while in the car, watching a movie, reading, chatting, etc.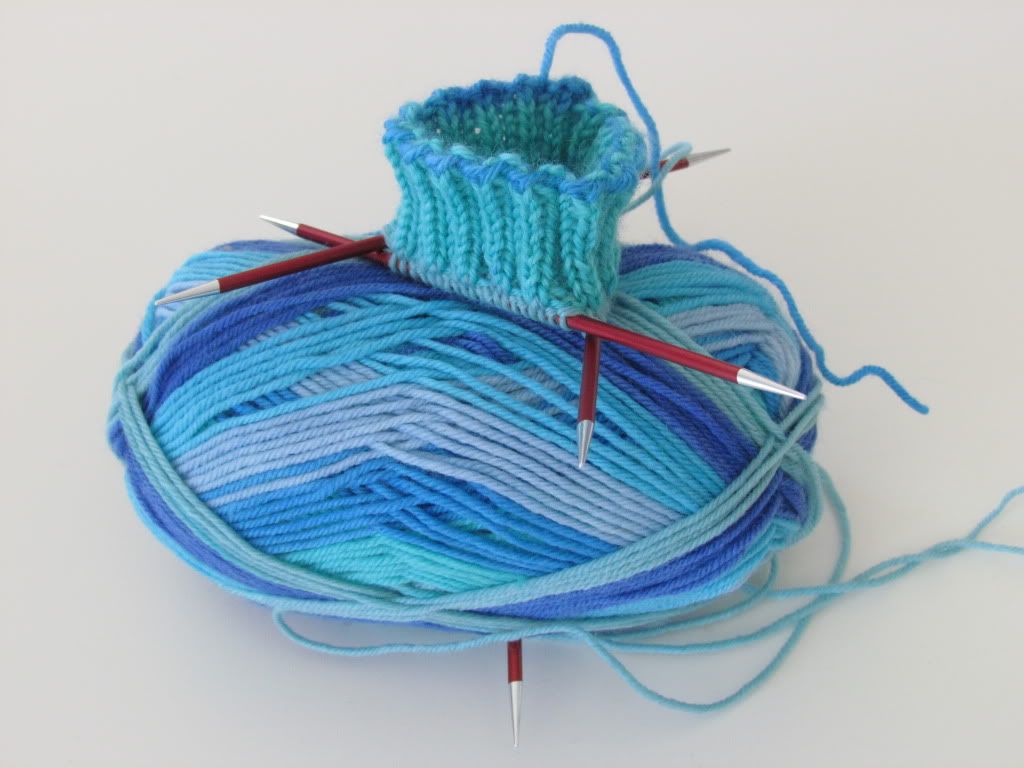 These ones are for a gift. The yarn is Knit Picks Felici and the colour is High Tide. If you're a blue fan, then I highly recommend this colour, it is stunning. There's something incredibly mesmerizing about watching the stripes knit up, I think it makes the socks go faster somehow.
Wow, I didn't know this post was going to be just all about socks, but I'm sure you can guess what my favourite thing to knit is now can't you? Since yesterday I've done some thinking and I'm going to wait and do more research on steeking before I do any cutting. The project is quite large and I don't want to screw it up for lack of knowledge. In the meantime I've been busy working on the socks. I haven't started the Hexagon one-a-day thing yet, I was thinking I'd start either tomorrow or Monday. I know most people do their progress posts on Tuesdays but I'm thinking about doing mine on Mondays or Thursdays, I'm not sure which one yet.
Well, that's it for today. Have a lovely weekend,
xoxo