Hello,
Dear blog readers, I am so sorry for my lack of blogging, honestly I am. I have been trying to get a post together for days, but I never seem to have enough time to get it all in order. My family's Pancake House has opened for the season (which is about 6-7 weeks) and I've been busy baking for it which seems to take up most of my time. By the end of the day I just want to sit and relax for a bit with a project and my mind doesn't want to think up words for a post! I will try to work on this though and hopefully be able to keep up with posting over the next two months.
Anyways, I have exciting news! I finished my
Granny Stripes Blanket
!! I'm so excited to have this one off the hook and on my bed. It brings me such joy to snuggle under all those lovely colourful stripes each night.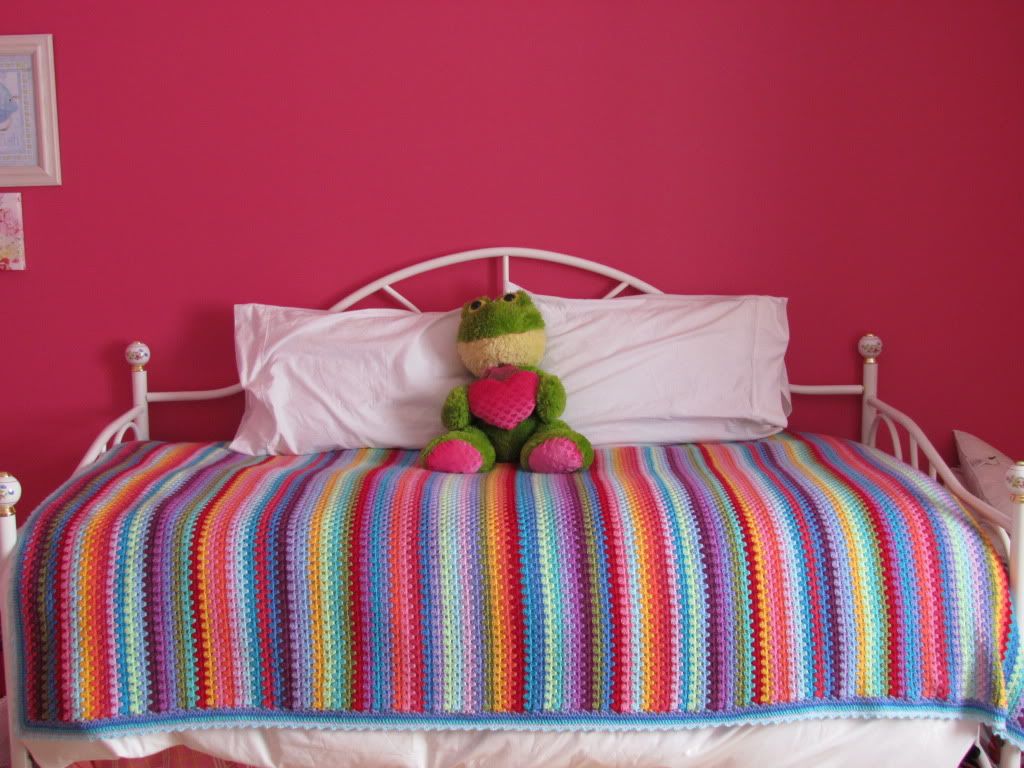 Started:
May 17th, 2011
Finished:
March 3rd, 2012
Pattern:
Granny Stripes by Lucy of Attic24
Yarn:
2 balls each of Stylecraft Special DK in: Pomegranate, Fondant, Sherbet, Saffron, Lipstick, Meadow, Aspen, Aster, Lavender, Spring Green, Plum, Magenta, Clematis, Shrimp, Turquoise, Wisteria, and Cloud Blue. 17 colours total - also known as the "Lucy Pack."
Hook:
4.50mm
Size:
Approx. 60" x 85"
Wow, I really am so HAPPY with this blanket!! It took me almost 10 months to complete, but it was an on-again-off-again project, not one that I worked on consistently. It was
so
worth all the time that it took and I never felt like it was a pain to work on, it was always a joy and very relaxing, even near the end when it was getting super heavy and hard to pile on to my knee. I still have quite a bit of yarn left over, so I think I might make some pillow covers.
Now that I am done this blanket, I went back to work on the Hexagon one and decided that it was just not turning out how I had hoped. I was using a size G hook and it was coming out way too tight, so I have started over again with a J hook and it's so drapey and lovely!! I'll have to get some pictures of it soon.
Anyways, I'm off to do some knitting before bed. Have a great night!!
xoxo