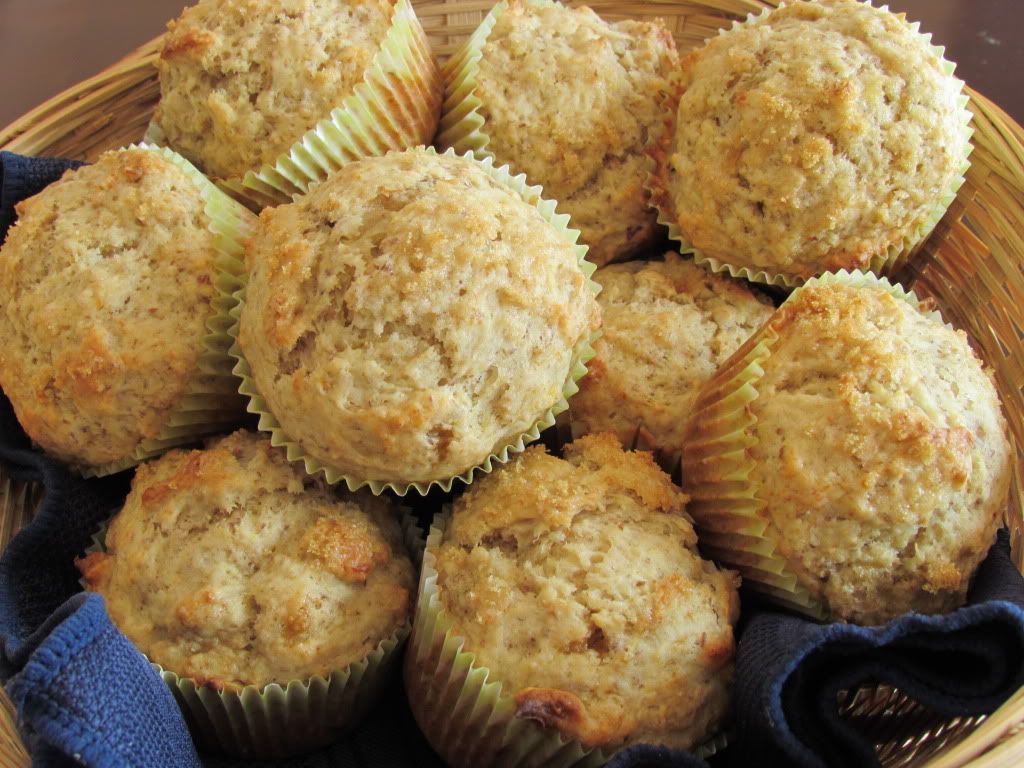 Hello,
We always seem to have leftover over-ripe bananas hanging around our kitchen so I thought I'd come up with a good recipe that had a few extra healthy ingredients in them. My Dad can be picky when it comes to things like whole wheat and flax so I thought sneaking them into some muffins was a good way to get them into his diet. I hope you enjoy them!!
Makes 12 regular-size muffins
Ingredients:
1/3 cup Almond milk (you can use regular milk as well. The Almond Milk makes it lactose-free.)
1/4 cup vegetable oil
1 egg
1 cup mashed ripe bananas (2 medium)
1 1/2 cups all-purpose flour
1/2 cup whole wheat flour
2 Tbsp. ground flaxseed
1/2 cup packed brown sugar
2 tsp. baking powder
1/2 tsp. salt
extra brown sugar for sprinkling on top
1. Heat the oven to 400 degrees F. Line 12 regular-size muffin cups with paper baking liners.
2. In a large bowl using a whisk beat milk, oil, egg and mashed bananas until well blended. Using a wooden spoon, stir in flour, flaxseed, brown sugar, baking powder and salt all at once. Stir just until combined. Divide evenly among muffin cups, and sprinkle the top of each with a little brown sugar.
3. Bake 15 minutes or until a toothpick inserted in the center comes out clean. Immediately remove muffins from pan to cooling rack. Serve warm or cool. (My Mom said she especially liked hers served warm with butter.)
xoxo