Hello,
Well, now that Christmas is over and put away I have begun to focus on the next holiday - Valentine's Day. This is another favourite holiday of mine because in my books there's not many things better than love, hearts and pink, red and white. One of the first things I did was sign up for the Itty-Bitty Group's mini Valentine's Day swap, where you make one small something special for your swap partner and include a card, that's it. I thought this was something I could manage at the moment, and I missed being a part of all the fun that goes into a swap. I honestly had a ball coming up with ideas and making my project. Right before Christmas I was gifted the pattern for
Susan B. Anderson's Wee Sheep
by my sweet friend Deb, and while thinking up ideas for the swap, the thought of a cute little pink sheep popped into my head. After knitting her up, I knew I wanted to add a red heart but wasn't sure how. My Mom happened to remember that we had some small heart buttons, so I sewed a red one onto her chest. I think she is adorable and I can hardly wait for my swap partner to get her.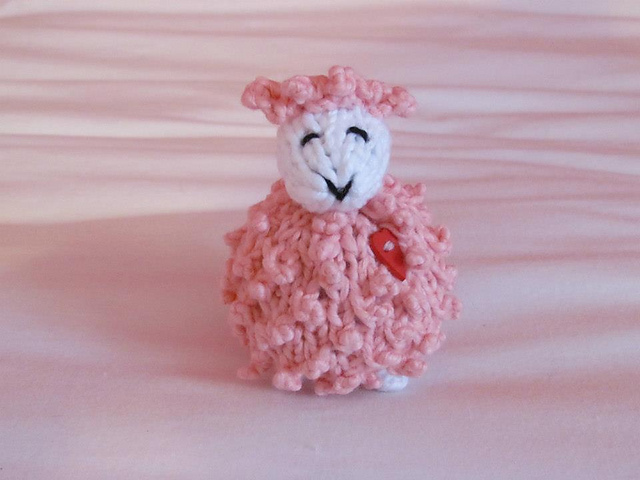 Now I will talk more about my New Year's Resolutions in another post, but one of them is to use my stash yarn as much as possible, and another one is to knit a dishcloth a week for the whole year. Both of these together resulted in this:
My first dishcloth of my challenge! The pattern is by Elaine Fitzpatrick and it's called
Hearts for Ruthie
. There's even a matching bib pattern if you're interested. I think it's pretty cute and it was very fun to knit. I've already picked out my one for this week -
Little Tweet Cloth
. She has some adorable patterns and I think I will be using quite a few of them over the coming months.
I hope that you are all having a great start to your week. Mine has been very good - I've been cleaning out and reorganizing everything. Tomorrow is my bathroom and then Thursday will be my yarn. I had to save the yarn for last or else I might not want to keep this up!
Be back soon,
xoxo